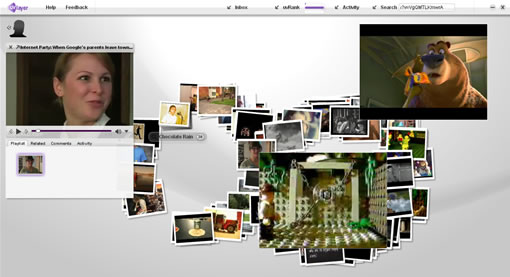 Adobe AIR is the technology that causes a revolution in the history of the internet. With Adobe AIR, you can view high dynamic information right on your desktop browser less. This provides an easy access to your favorite shows, application and web sites.
Klok
Klok is a personal time tracking application that makes it easy for anyone working on multiple clients, projects or tasks to keep track of their hours. In contrast to many time entry applications, Klok is meant for those of us who want to press a button when we start working and another when we stop. Klok keeps track of the rest. Klok allows entry of time spent in the past as well and also allows for editing time entries. The application features drag and drop, excel export, archive and a collapsed view that stays our of your way.
Acrobat.com for My Desktop
Acrobat.com is a set of online services — file sharing and storage, PDF converter, online word processor, and web conferencing — you can use to create and share documents, communicate in real time, and simplify working with others from anywhere. To learn more about Acrobat.com please visit http://www.adobe.com/acom. The Adobe AIR version of Acrobat.com provides an easy way of interacting with Acrobat.com by dragging and dropping files and folders from your local computer directly into your Acrobat.com account, and browsing, previewing, sharing or publishing files easily from your computer. The application can be minimized to a widget on your desktop providing easy access to the Acrobat.com services.
kuler desktop
New! Import kuler themes directly into Creative Suite 3 Illustrator, InDesign, and Photoshop. Select Save Theme menu to learn more. Color inspiration. Browse and search color themes from kuler (kuler.adobe.com), an online application to create and share color harmonies.
View RSS feeds of Highest Rated, Most Popular, Newest, and Randomly Selected themes. Drag and drop themes as transparent "tear offs," to scale and view over any application.
Adobe Media Player
Adobe® Media Player software provides control and flexibility to view what you want, when you want — whether online or offline. You can queue up and download your favorite Internet TV content, track and download new episodes automatically, and manage your personal video library for viewing at your convenience.
The Adobe Developer Connection Developer Desktop
The Adobe Developer Connection Developer Desktop (ADC Desktop) is an Adobe AIR application that delivers a number of helpful resources for Developers. You can easily track and receive desktop notifications to changes in bugs you are tracking from the public Adobe bugbase. Additionally, you can explore and track aggregated Flex components on your desktop, or you can use the integrated RSS reader to view news and feeds, and get updates as they happen. Finally, you can locate Adobe user groups and current events via the user group and events map.
Adobe Air eLearning

This is a Brandon Hall award winning Adobe AIR application created using RoboHelp® Packager for Adobe AIR. Install the application to see how Adobe AIR can be used to create cross-platform online help systems, knowledge bases, performance support systems, as well as Policies and Procedures systems with absolutely no programming.
ShareFire
ShareFire is a feature-rich news aggregator that lets you share stories via AIM, Twitter, Facebook, MySpace, email and more with no copying and pasting, or dragging and dropping.
ShareFire lets you read all your news in one place, and share it all in one place, too. With built-in support for over ten different ways to share stories, all you have to do is click on an article to start it cascading through your social network. And it even supports 16 different languages.
Adobe Captivate Reviewer
Adobe Captivate Reviewer is an Adobe AIR application, which allows anyone to review and comment on Captivate 4 projects. Reviewer don't have to have Adobe Captivate on their systems, and since Adobe AIR is available for Windows, Macs and Linux, this makes it easy for anyone to review projects. Finally, since Adobe AIR can write to the local desktop, all comments are saved to an XML file on the Reviewer's desktop, which can then be emailed back to the Captivate user, who initiated the Review.
Lumzy
Lumzy is a quick mockup tool that allows you make mockups fast and easy. You can generate jpegs, pngs or pdf files from your mockups, send your mockups to clients as images or even send editable version to them. They can edit and send back to you, all within the IDE.
It's a great offering with ability to test your mocks and see how they look in windows theme, mac theme or handrawn theme. You can use the free version online www.lumzy.com or download the desktop AIR version.
Attest
Attest was engineered to help the growing community of Adobe Flex Developers achieve the Adobe Flex 3 with AIR certification. By focusing primarily on the information and skillset required by the actual Adobe exam, Attest is currently the ONLY mock/practice exam on the market to help Flex Developers attain the goal of becoming an Adobe Flex 3 with AIR Certified Developer.
2008 holiday greeting puzzle from Adobe
For the 2008 holiday season Adobe developed an interactive puzzle application to share with contacts, friends, and family. This strategy not only supports our initiative to be more globally sustainable by eliminating printed cards, but it also supports our business goals by highlighting our own technologies —Adobe® Flash and Adobe® AIR. Scramble the image of the slide puzzle, and put the pieces back together. Then pass the game along to your friends with a picture of your own.
Spaz – an award-winning Twitter client
Spaz is a free, award-winning Twitter client for the Adobe® AIR™ platform, offering notable features such as access to direct messages and replies, CSS theming, and event sounds. Spaz is open-source under the "New BSD" license.
Spaz was the winner of Best HTML Community App in the AIR Developer Derby.
uvLayer is a web AIR based application that allows you to share video and images between your friends on uvlayer or Facebook.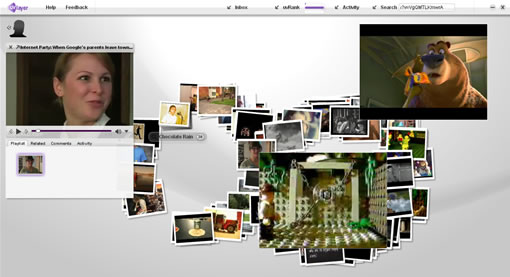 eBay Desktop is an application built on AIR that provides a better way to shop eBay, the world's leading online marketplace. Features such as 1 click search filters, alerts, history, and feeds go beyond what is possible within the browser.
twhirl is a social software desktop client for services like Twitter, Seesmic, Friendfeed and identi.ca. It allows to connect to multiple account at the same time, keep up with your friends' updates, and share what you are doing.